Have you ever imagined the anita and Jade Picon as VALORANT agents? Well, probably everyone's answer is "no", but the artist Valorous radiant not only thought about it, but also put the idea into practice and saw his creation go viral in the community.
On Tiktok it's almost 175 thousand views in the video that shows the entire process of creating the celebrities, transformed into Viper (Jade Picon) and Raze (Anitta). What many don't know is that Radiante Valoroso, whose name is Humberto Santos, made all this art on his cell phone and with an improvised touch pen.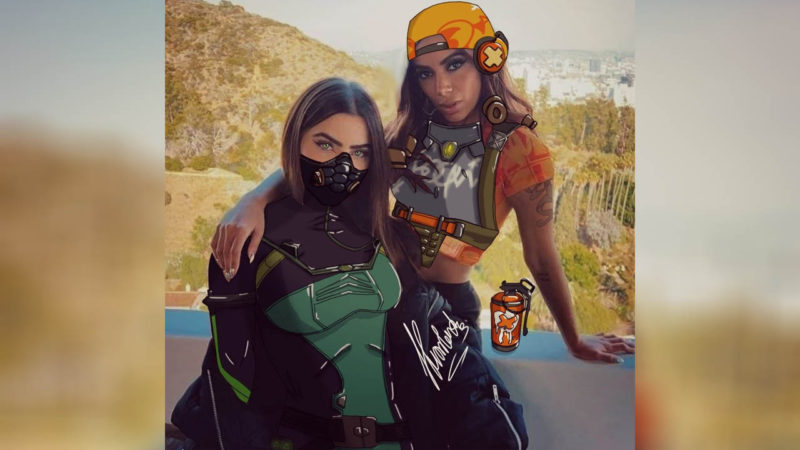 In an interview with more esports, he said that he always liked to draw since he was little, but he never took a course or studied for it. The idea of ​​drawing Jade and Anitta as VALORANT agents as soon as he saw the picture of the two of them together.
The color palette, the poses (from the photo), reminded me a lot of the characters from Valorant, which is what I currently play. I've always related everyday things to things I liked, and the drawing allows this to not just stay in my head, so I decided to represent it with a drawing and played it in a group without any pretensions, then when it went viral I created social networks to post more content.
Humberto, or rather, Radiante Valoroso, said he was scared of the repercussions, since he made the art without any pretensions. He has already created other VALORANT artwork and intends to continue doing related work, but he stressed that he will not stick to the game and wants to expand it to other universes.
For me it was a scare, I went to sleep and when I woke up I had more than 100k views. For now, I only have ideas for Valorant, which is the community I'm in at the moment, but I don't stick exclusively to the game, when the opportunity arises I intend to expand to other universes. At the moment I'm still assimilating the repercussion it had.
Sovamoo!! @frtfps pic.twitter.com/7rLufbtiAv

— Radiant Valoroso (@valorosor) May 2, 2022
Drawing is a hobby for him, who, as we said here, does everything on his cell phone and with an improvised touch pen. However, the positive impact of his work gave rise to the desire not only to invest in specialized equipment, but also to study more about it.
I've worked as a design, but in a completely different segment of drawing, which has always been more of a hobby for me, so I can say that I do it for fun. I don't have the resources to do it professionally, my arts are done on a cell phone with an improvised touch pen. However, after that image, the desire was born to get professional equipment and, mainly, to study more about drawing. I still have a long way to go to reach the point where, in my self-criticism, I'm very good at what I do and maybe have the chance to work in this area, which is something I enjoy and do for pleasure.
Humberto is publishing his arts in his twitter and Instagram, and on Tiktok publishes the video of the entire creation process.
The post VALORANT: Artist recreates celebrities as in-game agents appeared first on Mais Esports.