LoL's new champion Bel'Veth has been the subject of yet another leak via the League of Legends community. On Reddit, an insider posted in the last few hours the full list of skills that the champion can receive at launch.
Bel'Veth's idea, based on the leaked information, is for it to be a hybrid like Volibear, but leaning a little more towards AP builds. The abilities were detailed in the video below, but it is worth remembering that all of them have not yet been confirmed by Riot Games and may undergo changes in their concept until the official launch.
According to the leak, Bel'Veth's list of abilities will look like this:
Passive: Enemies such as champions, large field monsters, epic monsters, super minions and cannons drop "something" when they die. Bel'Veth can collect this to stack his passive. This passive forms a swarm that grants lifesteal in jungle camps. If she attacks an epic monster or a tower, she sends all that swarm towards those targets, healing her, dealing damage and consuming all stacks.
Q: Passively grants an arrow in four directions. Upon activating, Bel'Veth dashes forward, dealing damage and slowing. She activates her passive for enemies that were passed with her ultimate. When she damages a champion or a large or epic monster with her dash, she restores her cast. If used on minions and smaller monsters in the direction of arrows, it restores 40% of your cooldown.
W: It works similarly to Rek'Sai's W. She goes underground for a short period, gaining movement speed and can pass through walls. At the end, it rises, dealing damage and lifting all enemies in that area. If she has her ultimate activated, she cannot be selected and grants a small stun after knocking the enemy up.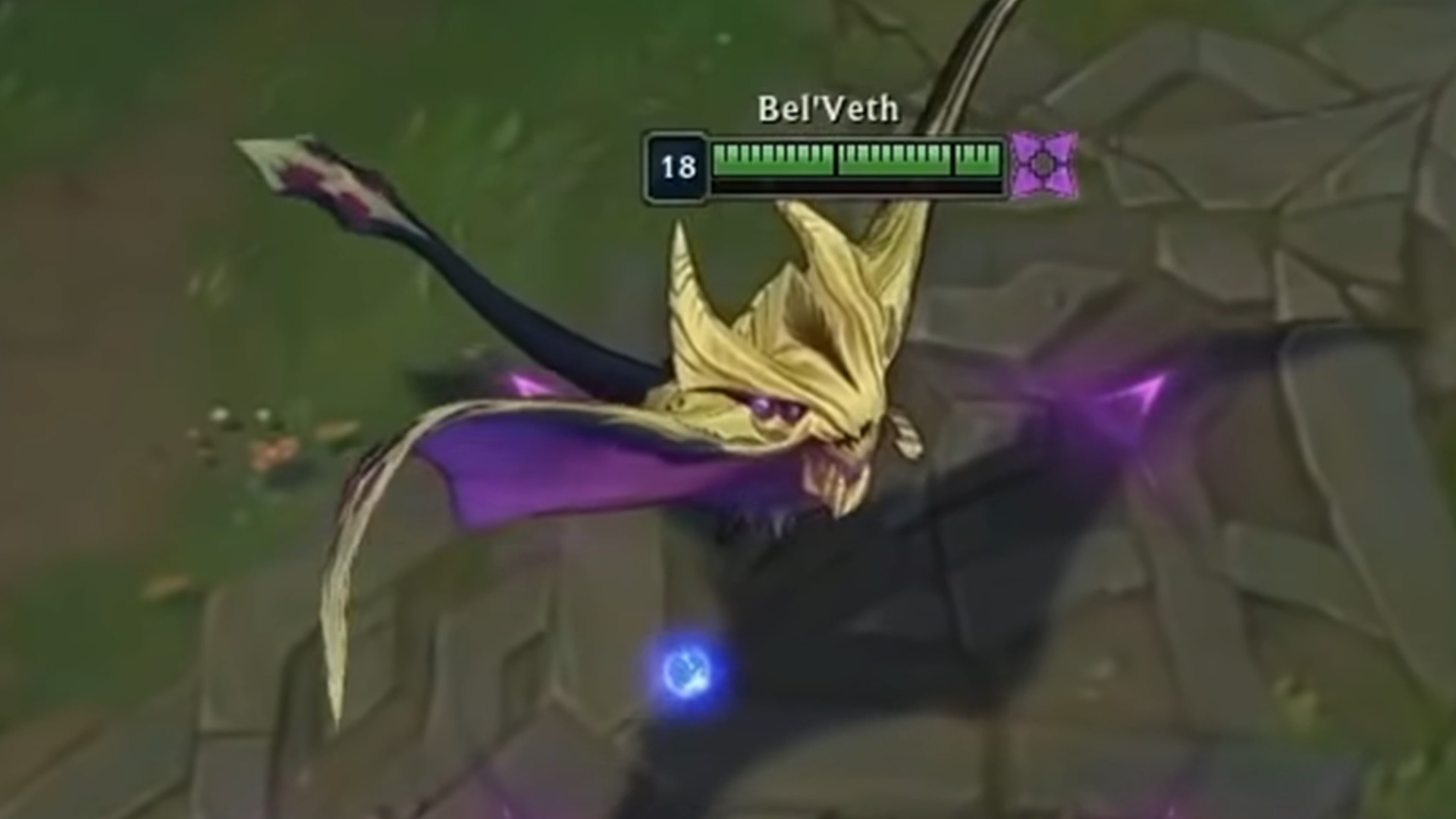 AND: Bel'Veth begins to conjure a vortex. During this time, she cannot move and slowly pulls all enemies towards her, dealing damage to each one per second. She also takes less damage during this time. Another effect is that she deals a percentage of the damage she received back to attackers, a similar mechanic to Thornmail. While with the ultimate activated, it deals a percentage of real damage per second, the damage reduction is higher and at the end it explodes the area.
Ultimate: Bel'veth assumes her true form for a few seconds. Like Swain or Aatrox, the ultimate's duration can be extended during combat, increasing all of his abilities. She gains HP, magic resistance, armor and damage. While she is transformed, collecting passive stacks restores a percentage of her health. She can also use all of her stacks to form a swarm that will damage all surrounding enemies. This swarm dies after a while, but can be redone by killing enemies.
In late April, the first leak gave details of Bel'Veth's look. Riot Games has not yet brought many official details of the new champion, which could happen in the next few days. So you know: stay tuned here at Mais Esports for more news!
The post LoL: Leaked supposed abilities of champion Bel'Veth appeared first on Mais Esports.