This Wednesday (15) the CBOL published a note apologizing for the incorrect Hashtag battle count in the game between fatherN and LOUD which took place on Sunday (12) for the second split of CBLOL 2022.
At the time, LOUD was 78% of the counted crowd, against 22% from paiN Gaming.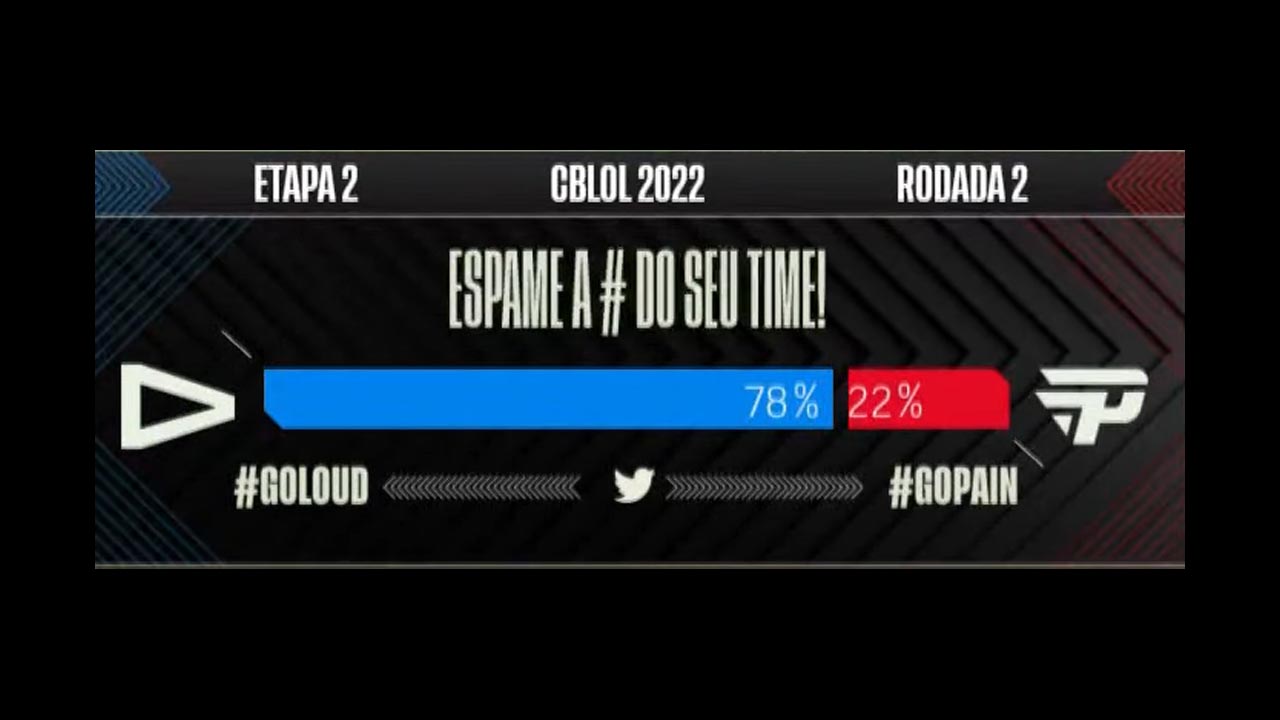 In the statement, CBLOL states that the exhibition was done wrong, and that the correct proportion would be 51% in favor of LOUD against 49% of paiN Gaming. The organization of the tournament also stressed that it has investigated in detail the counts of the other matches, but has not identified any measurement errors. The problem has already been identified and fixed for next week.
See the full statement:
Last Sunday (12/06), we had a technical problem in the measurement of the Battle of Hashtags in the match between LOUD and paiN Gaming, valid for Round 2 of CBLOL – which caused an incorrect result to be displayed at the time the data was shown in the broadcast.
The correct proportion would be 51% in favor of LOUD, against 49% of paiN Gaming. After a detailed investigation, no deviations were identified in the measurements for all nine other Week 1 matches. The issue has now been properly identified and corrected for Week 2.
We apologize to the fans and reinforce not only our maximum commitment to transparency and fan trust, as well as the maximum stimulation of interactivity and engagement as forms of direct participation in our broadcasts.
The two organizations are among the most engaged on Twitter, so the difference in votes impressed even the narrators at the time of the broadcast. Obviously this yielded several memes, including provocations from LOUD itself:
runts will never be big pic.twitter.com/ApH5253ked

— #goLOUD (@LOUDgg) June 12, 2022
no task force next time ok, it's not worth it against a small team

— #goLOUD (@LOUDgg) June 12, 2022
— #goLOUD (@LOUDgg) June 12, 2022
In the game in question, LOUD ended up being defeated by paiN Gaming and both teams finished 1-1 in the first week. Check out the full coverage of CBLOL 2022 with game schedule, results, match statistics, lineups and other information here on More Esports.
See also: Dioud meets with Riot BR about scripters problem
The post CBLOL 2022: Tournament was wrong in the crowd count between paiN vs LOUD appeared first on Mais Esports.